LATEST NEWS
Review: Gary Walsh, The Wine Front
Salo Chardonnay 2020
25 September 2021. 
Pretty much always a good wine.
Subtle saline and slight funk, white peach, lemon zest, a little cashew. It's gently glossy, with something of a green herb flavour in the mix, dusty almost peppery texture, and powdery grip on a pretty long grapefruity finish. Nice wine. Texture is good, and it's interesting with it.
Rated : 93 Points
Tasted : Sep21
Alcohol : 13%
Price : $40
Closure : Screwcap
Drink : 2021 - 2027
Review: Gary Walsh
Salo Chardonnay 2019
5th September 2020.
From the Full Moon vineyard in Gladysdale. The project of Steve Flamsteed and Dave Mackintosh (who'd be called Tosh if he lived in Scotland, though it's 'Dave Bro' in the antipodes).
Salo always tastes like Salo, which is as it should be, though vintages obviously shape the outcome. This is kind of thick and fleshy but with a firm core of enlivening acidity. It tastes of pie apple with a savoury edge of roast chicken and toasted hazelnuts, ripe lime acidity, fine chalk dust texture, and again that almost creamy oatmeal and an umami sake thing on a long and juicy citrus finish of precision and grip. Very excellent.
Rated : 95 Points
Tasted : Sep20
Alcohol : 13%
Price : $40
Closure : Screwcap
Drink : 2020 - 2024+
Review: Mike Bennie
Salo Chardonnay 2019
20th September 2020
Exciting wine this. As is often with Salo, savoury characters, saline minerality a feature. Strong in chalky texture, deeply flavoured ripe apple, green pear, stone fruit the mainstays, but yeah, that minerality thing is a twist and drive. Yeasty finish, salty and bright, a delight. A wine of distinct personality, charisma and high drinkability. On the edge, on its own path. Love it. 95 points
Review: Mike Bennie
March, 2018
Salo Chardonnay 2017
From the Full Moon Vineyard in Yarra Valley. The co-project of Steve Flamsteed and Dave Mackintosh. A little extra flex in this wine, some distinct personality, despite the hands-off winemaking. Let to do its thing on lees, bottled from the big, older barrels the wine settles into over its pre-bottling life. The red clay soil site at higher-than-usual-Yarra altitude is likely also playing a part in the distinct gras and funk, mineral charm and piercing acidity going on in this wine. Killer. 
Bold, savoury style of chardonnay, loads going on, wilder-edged, chalky pucker, spiked with dried apple, saltiness, flint and smoke. Has big volume of perfume too, more of the ripe and dried apple plus that delicious, savoury nuttiness. Superb wine here. Rolls with so much personality, charismatic, texture, energy. Otherworldly. Love it hard. Watch it fly. 
Rated : 96 Points
Review: Campbell Mattinson
August, 2017
Salo 2016 Chardonnay
"…Grown at Gladysdale in the Yarra Valley. Aged in 500 litre puncheons. No new oak.
Total make of 260 dozen.
It's bound and tight at first but as it breathes it really blossoms. This is a lovely chardonnay. Indeed the volume of fruit is impressive, a wealth of white peach and grapefruit flavour coming nuanced with meal and mineral. I put this wine aside a few times and every time I returned the palate seemed to have extended out further. Notes of hazelnut and indeed fennel eventually come forward; what impresses mostly though is the wine's gorgeous purity."
Rated : 94 Points
Review: Gary Walsh
Salo 2015 Chardonnay
From a vineyard in Gladysdale, which is a nice place name. Sort of homely and happy at once.
Pie apple and spice, a whiff of struck match, maybe some lime and lemon. It's smooth and fleshy, with an almost peppery feel in flavour and texture, ripe citrus smoothed with almond, and a long finish that rings like a bell. Beauty. A short note for a great wine.
Rated : 95 Points
Tasted : Nov.16
Alcohol : 13%
Price : $40
Closure : Screwcap
Drink : 2016 - 2025
Visit winery website 
Winemaker of the Year
Gourmet Traveller Wine has awarded Steve Flamsteed with the Winemaker of the Year award for 2016.
Read the full article here
Review: Mike Bennie @ Winefront
2013 Salo Syrah

Wines by Steve Flamsteed and Dave Mackintosh. Very good wines, if you've kept up with their trajectory. Decent humans too, and a whole other aesthetic giving context to the wines, if you consider their very deep and pronounced interest in food, art, music, contemporary culture and history (interesting people to chat to).
This wine is from a pretty bloody good vintage in Hawkes Bay too. 
It's a ferrous, graphite-like mineral riddled wine. From the outset it's all about earth, iron filings, wet stones, before you get to black fruits, plums, cedar. Bold scents. In the palate, medium bodied, some juiciness but more lean, trim, taut and pushes with dark fruit and graphite/stone mineral suggestions. Tannins ripple and firm up the mouth. It's speaks eloquently of the variety from the place, but with a wild streak that takes me back for more. It's sensational. 
Rated : 96 Points
Tasted : DEC15
Alcohol : 13%
Price : $40
Closure : Screwcap
Drink : 2015 - 2025
Review: Mike Bennie @ Winefront
2014 Salo Chardonnay 
Winemakers Dave Mackintosh and Steve Flamsteed continue to excel with this range of wines. If you like fancy, mod-Aus chardonnay and haven't leapt into a bottle of Salo, you should. At the good part of the curve too with flavour-winemaking input too. Grape gets it's name in lights with judicious work in winery. Nicely done. From the Yarra Valley. 
Great release here. Smoke, flint, ripe grapefruit, ripe apples. Good to sniff on – shows that edgy, struck match work but doesn't forget to be full of fruit too. In the palate, lick of flint/slate-like mineral inflection set amongst juicy fruit flavours, chalky texture and finishes in a long, stoney point of mouthwatering acidity. Smooth ride, elegant, lots going on. Classy stuff.
Rated : 94 Points
Tasted : OCt15
Alcohol : 13%
Price : $40
Closure : Screwcap
Drink : 2015 - 2020
Review: Steve @ Qwine
2013 Salo Syrah 

What a contrast to the 2012. A true example of vintage variation can be seen when sitting the two beside one another. From a warmer and more ideal vintage than the previous, this 2013 delivers a fantastic example of what medium bodied Syrah from Hawkes Bay looks like.
Again, a dollop of Viognier (3%) was added to the ferment and only 15% new oak was used. Vibrant and juicy red fruits skip about with a dusting of black pepper. The fruit has more presence here on the mid palate. The 2012 showing much more savoury appeal yet the earthy characters still hold form. Smooth dusty/powdery type tannins to finish. Yum! I think I just licked the glass it's that good.
It will show its best in a year or so and will cellar for up to ten.
 Very good+
Reviews by Jane Faulkner
Salo Hawkes' Bay Syrah 2012
New Zealand
The colour of this syrah is amazing – maybe it's the splash of viognier that has marked it a deep purple and bright, it certainly adds some florals. It's as spicy as all get out, lots of black pepper suggesting a cooler season, damson plums, umeboshi too but also garrigue herbs. I love the fragrance – distinctly Hawkes' Bay and highlighted by some whole bunches in the ferment. It's just medium-bodied, tangy acidity with fine slightly grainy tannins, some woodsy spice and a compelling ferrous note. This reminds me of a syrah made by pinot noir specialists – hence the fragrance and fineness. Still very youthful almost sinewy, slightly thin and needs some extra time in bottle otherwise decant it.
Tasted: February 2015
Price: $38
Closure: screwcap
Alcohol: 13%
Cellaring: 2016 to 2023
Bottles: n/a
Score: 90
Critic: Jane Faulkner
Salo Yarra Valley Chardonnay 2013
Victoria, Australia
The Salo duo, as in Steve Flamsteed and Dave Mackintosh, have again sourced fruit from Gladysdale in the cool upper Yarra. I like the 2013 vintage, a fleshier, riper one with wines for more immediate drinking pleasure. And that's where this chardonnay comes in. It's pale straw and bright; an enticing nose of preserved lemon and stone fruit with ginger spice, more complex sulphides so a whiff of match strike, smokey too. It's not a big wine, there's subtlety and restraint with some grip plus textural nutty, leesy nuances. It finishes a little short but there's so much to enjoy here I could quite easily polish off a bottle at lunch – with friends.   
Tasted: February 2015
Price: $38
Closure: screwcap
Alcohol: 13.5%
Cellaring:  now to 2020
Bottles: 140 dozen
Score: 93
Critic: Jane Faulkner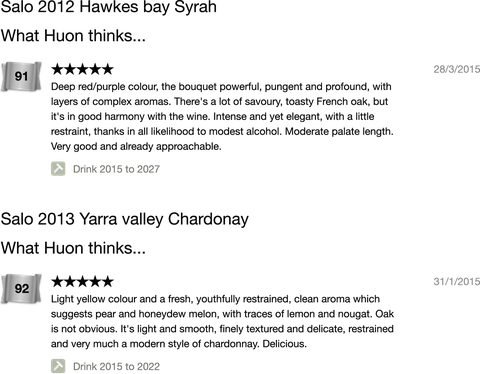 We, here at SALO, are proud to announce that our uber winery has turned 6!
And look how far we have come, our wine is still stored under Steve's house, we continue to use Gmail
BUT 
We have grown up a little…
We now have a website that works (we hope), credit card facilities, and we even joined The Facebook (I think that what it is called)  
What's more exciting is our wine is getting better and more characteristic of site and us.  
Not sure if our personality is sneaking into the wines a little more each year, or if the wine's personality is sneaking into us.
So here we are …releasing the 6th Salo Chardonnay to all of our friends. 
Again there is bugger all, so it will be your chance first….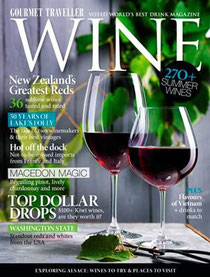 Our 2011 Salo Syrah was recently awarded 5 stars by Gourmet Traveller Wine magazine.
"...has excellent depth of black cherry fruit and black pepper on the nose preparing you for a rich, firmly structured palate"
"Intense and powerful. Blackberry and dark plum characters with hints of brambles. Ripe and lively, yet with some restraint. Good depth and persistance"